A CryptoStandard Score of 7.1 and a Stable+ outlook are assigned to Giftcoin (ICO starts on 20 Mar 2018).
Our team believes that Giftcoin is a project with a clear vision and goal, supporting and creating a sense of good will. It incorporates blockchain technology to relieve the general public's concern towards the transfer of donations. Although our team agrees with the project's vision, it is worth noting that, in order to achieve the long-term goal of end-to-end giving, all parties involved in the value chain have to use Giftcoin. Our team believes that this will be a key risk factor as it could take several years for cryptocurrencies to become mainstream. The high transparency and professional approach demonstrated in its documents and press releases comfort our analysts in giving out a Stable+ outlook.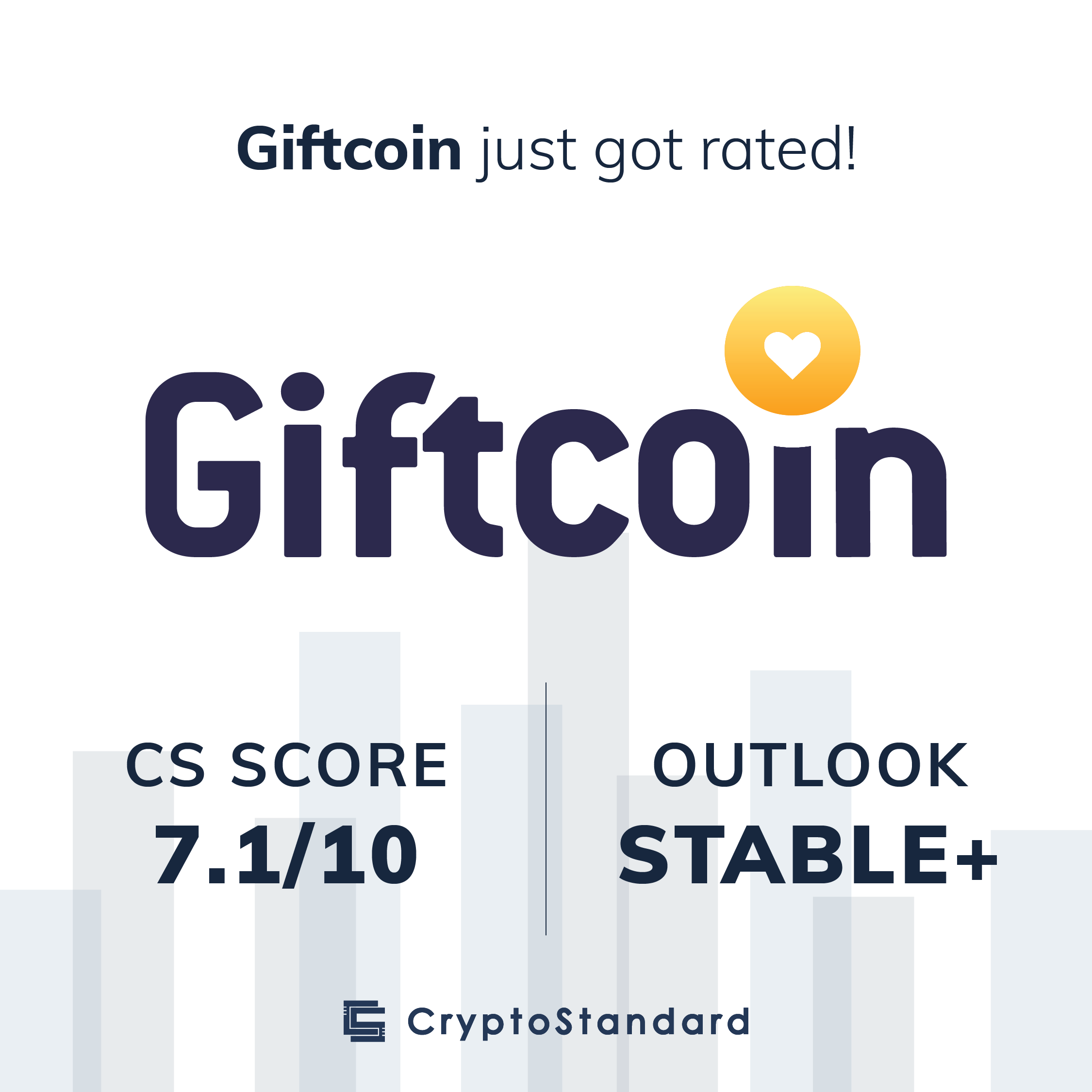 Giftcoin is a system developed to revolutionise charitable giving. It facilitates and encourages feeless giving, eliminating charges and fees which are incurred in charitable giving nowadays. The platform has also formed partnerships with several UK-based charities in order to streamline its operations. The idea of end-to-end giving will be implemented, where you will be able to track the path of your donation right up to the point it is spent.
The analysis is based on our rigorous CryptoStandard Score model which is supported by over 80 parameters. The distribution of the score and the explanation are shown below: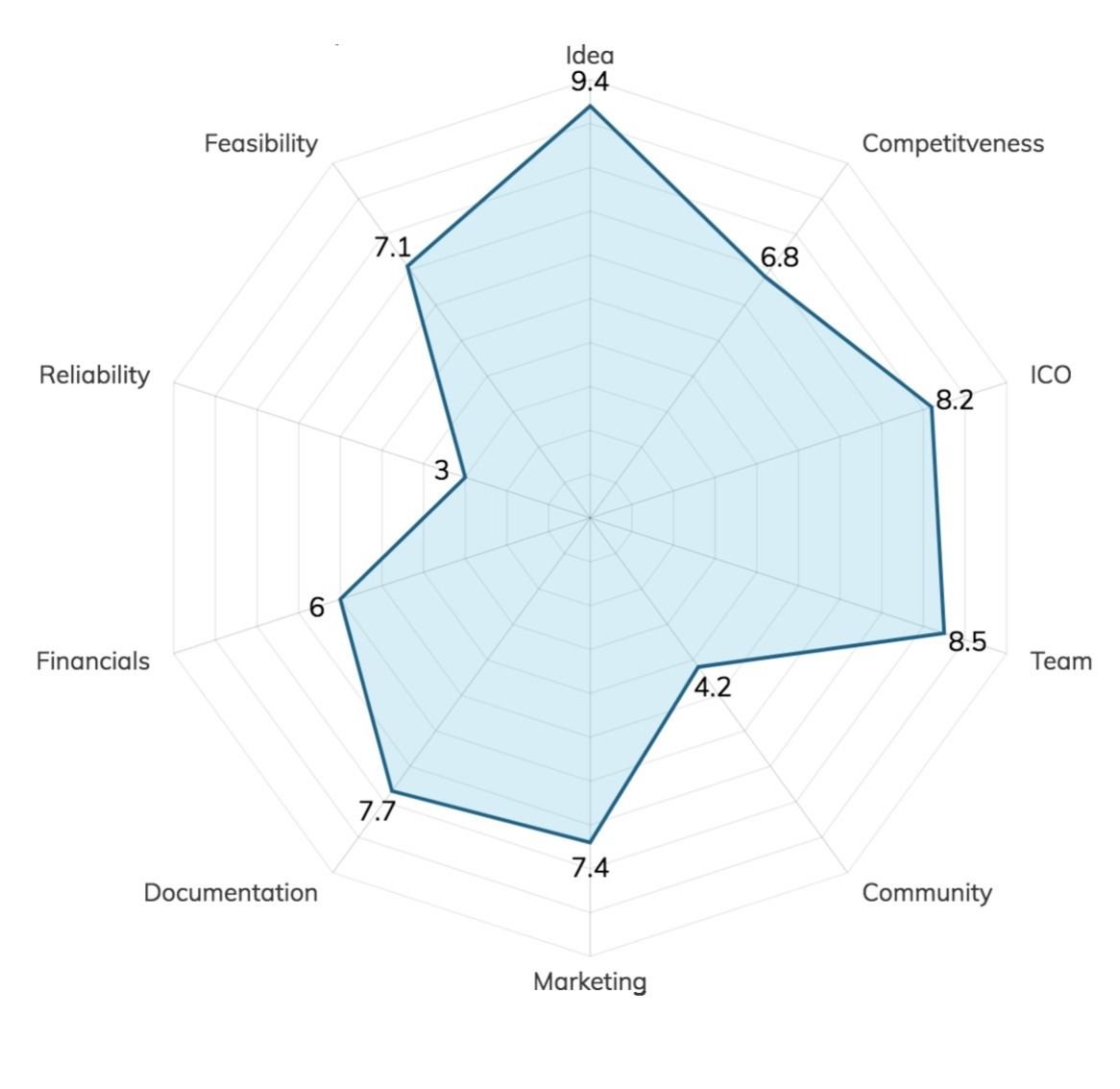 Giftcoin CryptoStandard score distribution
Idea
Giftcoin cleverly targets the lack of confidence of the general public towards cash donation at the moment. Our team believes that Giftcoin could relieve donors' concern by providing a secure way of donation, ensuring the recipients get 100% of the donated sum.
Competitiveness
There are quite a number of competitors with regard to the act of donation. However, Giftcoin is aiming to disrupt the current donation system by ensuring a certain level of confidence among the general public. Hence, our team believes that if this is carried out and executed in a professional manner, Giftcoin could be disruptive to the current donation framework.
ICO
The details of the ICO are clear and transparent. There will be no future offerings other than the scheduled sales. Serious consideration has been given to whether they will use ERC 20 or R3 Corda. There will be no public mining available so there would be a constant demand for the token and this helps stabilise the price of Giftcoin. Besides, our team believes that the lock-up period for tokens owned by the founding team and advisors is reasonable.
Team
The team is diverse and strong. Their team consists of blockchain, technology and business development experts. Moreover, charity partners have been identified and partnerships have been formed.
Community
The community momentum is weak. Our team believes that this may be due to the fact that few people look into charity ICOs and Giftcoin is still in its early stage of development.
Marketing
Giftcoin uses a wide range of marketing channels to promote its ICO, social media and rating sites in particular. The landing page is professional and the promotion video manages to deliver their vision and aim successfully.
Documentation
Our team has checked all the documents of Giftcoin, including the white paper, videos and news release. They are sufficient and consistent.
Financials
No financial information is provided.
Reliability
Our team holds reservations about the reliability of Giftcoin. Only the white paper has been issued at this stage. Moreover, they aim to release their final product by October 2018, which seems to be rather quick and further adds to our reservations.
Feasibility
There are three major limitations to its feasibility. Donation recipients have yet to be identified. Also, a secure and reliable token exchange system is yet to be proven or seen on their white paper. Furthermore, the slow adoption of cryptocurrency also hinders the growth of the platform.
Author :
Bitcointalk Name : cheryldlovejoy
Bitcointalk Profile :
https://bitcointalk.org/index.php?action=profile;u=1216297
Eth Address: 0xcbB6bc84552E731497e6D1b3A1928d72d3115BB7