Yes, it's that time of the week again when Dr. Joe comes out of hiding and decides to enlighten the world with one of his patented babes. This week he's picked only the hottest, babiest babe.
This week's babe:
Sheila Jackson Lee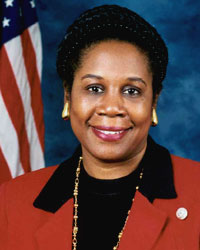 Yes, she might think that the Jews are evil... and that being a Democrat is acceptable, but she's not crazy to Dr. Joe. Instead, she serves as Congress' hottest babe.
She come from Texas, where she was Miss Texas nine times, even though six of those times she was ineligible. Not only that, when she ran for Congress, she thought that it was another beauty pageant. Lucky for us, she did!
Joe's Sizzlin' Factor:
5.5/10.0 Smokin's